In honor of Gal Erlich of blessed memory
The goal of the Gal Program is to enhance and develop leadership in Israel by offering promising students leadership training skills in an intensive and concentrated fashion. We train students in our Gal Community Leadership program in community building and organization skills, exposing them to challenges and tools at both the local community and national levels.
We view the task of training a future generation of leaders as top-priorityfor the success of the state of Israel.
The Program focuses on the organizational and economic aspects of leadership, consists of B.A studies in Business Administration, Government and Law, alongside a unique leadership skills training program, including instruction inmediation, advocacy, social network management, fundraising, management of nonprofit organizations.
The program is open to only 25 high achieving students each year.  Applicants are evaluated based on their prior leadership experience which may include a Pre-Army Service Year, participation in a pre-military academy, volunteer work in social change organizations, service as reserve IDF officers, political, environmental and social activism, high school student bodies leadership, service as youth movements instructors, etc. Students who meet certain criteria can apply for an annual 10,000 N.I.S academic scholarship for the duration of their studies.
Kobby Barda, Joint Founder and Program Manager
Kobby Barda heads the "Gal Program" for communal leadership at the Academic College for Law and Science. He is a Ph.D. candidate at the University of Haifa, Israel, and the recipient of the Chaikin Chair for Geostrategy Scholarship. His research focuses on the history of American politics. His dissertation examines the establishment of the Evangelical Lobby for Israel – US relations.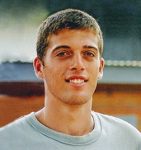 In his honor: Gal Erlich of blessed memory (1978-2001)
The Community Leadership Program is named after Gal Erlich of blessed memory.
Gal was born and raised in Rehovot, Israel. He was a vibrant, active youth, and he always believed in the goodness of every individual. Gal was a peace activist and a member and later and leader in the Hashomer Hatzair youth movement. During his military service Gal continued to give as much as he could of himself to others. He served as a combat soldier and commander in the Maglan commando unit. After completing his military service, Gal traveled to South America.On the 12th of July 2001, Gal and his travel companion were attacked by two armed assailants. Seeking to protect his companion from being raped Gal confronted the assailants and was shot in the head. He was taken to hospital, but died of his injury.
Gal's family chose to commemorate his life by contributing towards a better future in supporting like-minded young men and women in their paths to becoming the next generation of leaders in Israel.